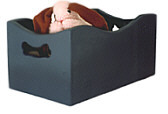 TOY BOX: We rescued a shy 5 year old Whippet (he's now 11), (Gilbert), who has a fetish for fuzzy toys. We were constantly hunting for that special fuzzy stuffed rabbit. So that Gilbert could find his beloved rabbit quickly, we designed a toy box for all of his fuzzy toys. Of course, the other dogs now have their own boxes. We can rotate their toys, and each dog thinks she/he has new toys.
The boxes are solid pine with lazy bone shaped handles cut in two sides, (for humans to carry the box). They are finished in wedge wood blue or ivy green to match their feeders. At 7 inches tall, 17 inches long, and 11 inches wide, it's big enough to keep favorite fuzzy toys handy.

PRICE: $125 (fuzzy rabbit not included, price does include shipping in the contiguous US).
Warning: Some dogs refuse to put their toys back in the toy box, e.g. (our newest family member, the rescued whippet Bridey, thinks toys belong all over the yard, and house. Having a toy box makes no difference to her. Gilbert however, gathers up his toys and so do the humans).