Another A Happy Tale
by Two Rescued Whippets
Gilbert & Bogie

For I am an English Dog
By Gilbert (a.k.a. Damascus). I'm named after Gilbert & Sullivan
When I looked through the silver bars of the crate, my legs were telling me to run and play, but all I could do was to turn around and lay down again. Everyday when my tummy would growl I'd tell it I would get some food, if not today there's always tomorrow.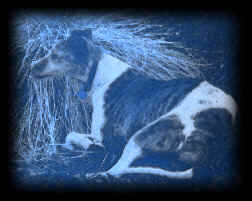 So every night before I went to sleep I searched for a crack in the ceiling to find a twinkle of a star. I knew someday there would be a better life for me.
The dog saints (Whippet Rescuers) heard my dad and I needed a new home. Cindy, one of the dog saints whisked us away to the world of caring humans.
Now my happy life begins.

When we arrived at my dad's new home, I immediately told my new human to Scratch. . . My . . . Neck! MMMMM. . . that feels good.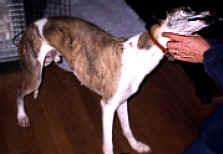 My dad pretended to be Mr. Aloof, until he found the Gold Pillow. I discovered it but my dad commandeered it.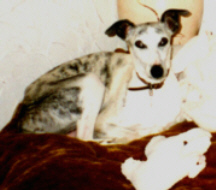 This soft Golden Pillow belonged to the Greyhound who crossed the river the same week we found new homes. Paulie was a rescued track greyhound and was my new grandma's best friend. I'm sure she misses him. My dad, whom she adopted, will help her heal her loss.
My dad, whose new name is Bogart (after Humphrey you know who), also found fancy dining. He's a sharing dog and left me a few pieces of delicious food.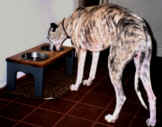 What else was there waiting for me . . .


I thought that my new home would be just as wonderful as my dad's. Little did I know that there was a grumpy, old, African queen, Basenji, waiting at the door for me.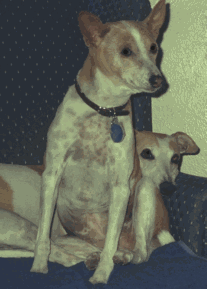 Fortunately, the old Whippet, Tai, (who came from the Dumb Friends League 13 years ago), convinced me to heed the growls of the African queen, go about my business and . . . most importantly be happy. So I AM!
My... what a big world out here. I just found what a fun backyard my new mom has. Evergreen trees 60 feet tall (I thought I was lost in a forest), all kinds of smaller trees and bushes trimmed to perfection.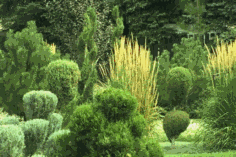 There are so many trees to hide my fuzzy bunny and other collectibles under. Bushes to scamper around when Cini (the African queen Basenji) comes by. I sometimes have to get my mom to help me find things, especially my pig ears.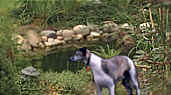 There's a pond so big I could play captain of a pirate ship. That is, if my mom will build a ship for me like the one in "Pirates of Penzance" by Gilbert & Sullivan. But, I have to learn how to use the doggie doors first.

I haven't talked to my dad, Bogie, today so I'd better give him a call. See what he thinks of his new mom (my grandma).

Well Gilbert, things are jolly good here! First of all, I get all the attention. My mom is your mom's mom, but we won't go into all that genealogy stuff now. My new yard is like an Italian renaissance garden you see in those fancy gardening books. I'll have to be more careful about jumping over the rose beds. There are prickly thorns on those little bushes but they smell nice.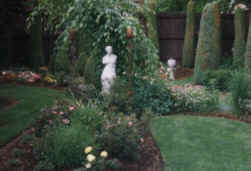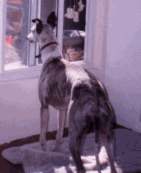 My guard station is a beautiful sunroom with lots of windows so I can see my entire backyard. My doggie door is close, so, I can run out fast and chase the squirrels up to the top of trees and sometimes I let the birds feed at their feeder. Say, Gilbert, have your learned how to use your doggie doors? I just accomplished mine with a little coaxing from my mom, of course she had cookies. I found another use for my doggie door . . . check on the weather. Try it.

I'm so happy to hear you and Tai are becoming friends. She's a wise old (Whippet) gal.
Gilbert, please stay away from those (mechanical) coyotes. You don't need anymore scars.
It's naptime, I'll talk to you later.
Dad, that's a dandy idea . . . I'll take a nap after I search my backyard for more treasure.

We picked "On top of Tredegar Moor" to be play while your read our page. This is a Welsh midi and can be found with other Welsh, Irish and Scottish midi's at our links page:
Thank you barry taylor for the midi.
Picture swiping without asking is punishable by a dog (gods) Gilbert, Bogie, Cini, Tai & Paulie